Dentistry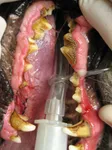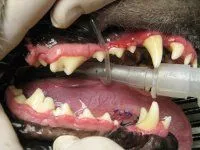 Before Professional Cleaning After Professional Cleaning
Pet's teeth need care very similar to our own. We brush our teeth daily to ensure they stay clean and to prevent tooth decay, gingivitis and periodontal disease. Periodontal disease is the most common disease in dogs and cats! About 85% of dogs and cats have some form of it and are vulnerable to the pain, bad breath and tooth loss that could follow. Your pet can develop these problems if the teeth are left untreated. In fact, keeping your pet's mouth healthy is not just important for the health of the teeth and gums, it is important for systemic (whole body) health as well. 1 gram of tartar contains over 3 billion bacteria. This bacteria enters the blood stream through capillaries in the inflammed gums and showers the heart, lungs, kidneys, and other organs. Tooth and gum disease can lead to other health concerns including liver, heart and kidney failure. Having your animal's teeth professionally cleaned by us can greatly reduce the risk of these types of tooth and gum diseases. Because you pet won't sit still in a chair like we do at the dentist, your pet is under anesthesia during this procedure. Call us to inquire about having your pet's teeth cleaned today!

Traditions Animal Hospital has the following available products for your pet's good dental health:
Dental diets: Science Diet Oral Care has been specifically designed to provide protection from plaque & tarter buildup. For more information on this product, choose CANINE ORAL CARE or FELINE ORAL CARE. Prescription Diet t/d is formulated specifically for the nutritional management of dogs and cats with dental disease. For more information on this product, choose CANINE t/d or FELINE t/d

CET hextra chews: As simple as giving a daily treat, great tasting C.E.T. HEXtra Premium Chews with the patented, exclusive Chlorhexidine System help remove plaque and reduce tartar. The antiseptic chlorhexidine system, combined with the natural abrasive cleansing action of C.E.T. HEXtra Premium Chews, helps to keep breath fresh and teeth clean. Use C.E.T. HEXtra Premium Chews daily as an oral hygiene option on those days when brushing isn't possible. For more information on this product click here.
Petsafe toothpaste & toothbrush: Easy and quick daily tooth brushing is the best at-home method for good dental health. CET toothpaste contains a dual enzyme to inhibit plaque and is specially formulated for dogs and cats. It is available in several flavors and make brushing easy and rewarding. For more information on this product click here.

Water additives: Clinical trail results show that CET AquaDent Water Additive reduces plaque and tarter buidup by more than 50%. For more information on this product click here.

Dental Vaccine: Is recommended for breeds predisposed to dental disease. Given at 1 year of age, boostered 3 weeks later, and then given annually.