Digital Radiology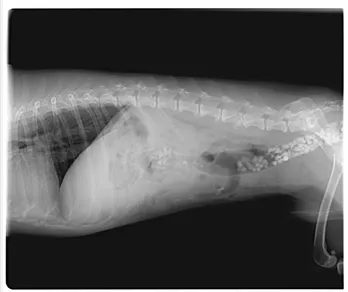 Pebbles in the intestines

X-rays are an important diagnostic tool for many common conditions we see in veterinary medicine such as fractures, vomiting, and breathing difficulties. Our digital radiography system is one of the newest tools of medical technology. This advanced system has the ability to capture and store x-rays to computer in digital form, making conventional x-ray films and developing chemicals quickly obsolete.
Traditions Animal Hospital offers state-of-the-art digital radiology. With our system, when a radiograph is taken, the image is instantly converted into a digital format that can be viewed on a computer viewing station, just like your digital camera. This significantly reduces the amount of time needed to take x-rays, decreasing any anxiety that our pets may feel about being on the x-ray table. Due to the high resolution of our system and its unique tissue optimization characteristics, we are able to obtain much more information from our radiographs than possible with traditional x-rays. This means we can see more detail than ever before. With the images being digital, it enables the doctor to easily consult by e-mail, when necessary, with board certified radiologists, surgeons and internists about abnormalities noted on the radiographs. Although these characteristics are all significant, even more important is the quality of images that we are now able to obtain. Each client can receive a CD including their pet's radiographs at no additional cost.
Traditions Animal Hospital offers OFA radiographs for the hips and elbows. We ensure that the radiographs submitted for OFA certification will get the highest rating that is possible for your dog. Contact us for more information about OFA radiographs.